Masterplan & Clubhouse
Underbank's Virtual Site Tour
A complete community
New neighbourhoods, walking trails, public spaces. The vision for Underbank is of a complete community.

The masterplan for Underbank is much more than a collection of new homes. This is an entire community which carefully balances traditional neighbourhood design with the unique features of this part of Victoria's countryside. Existing stables will be transformed into public spaces, along with the establishment of sporting facilities, community clubhouse and easy connections into the town centre. Underbank will truly be a natural extension of Bacchus Marsh.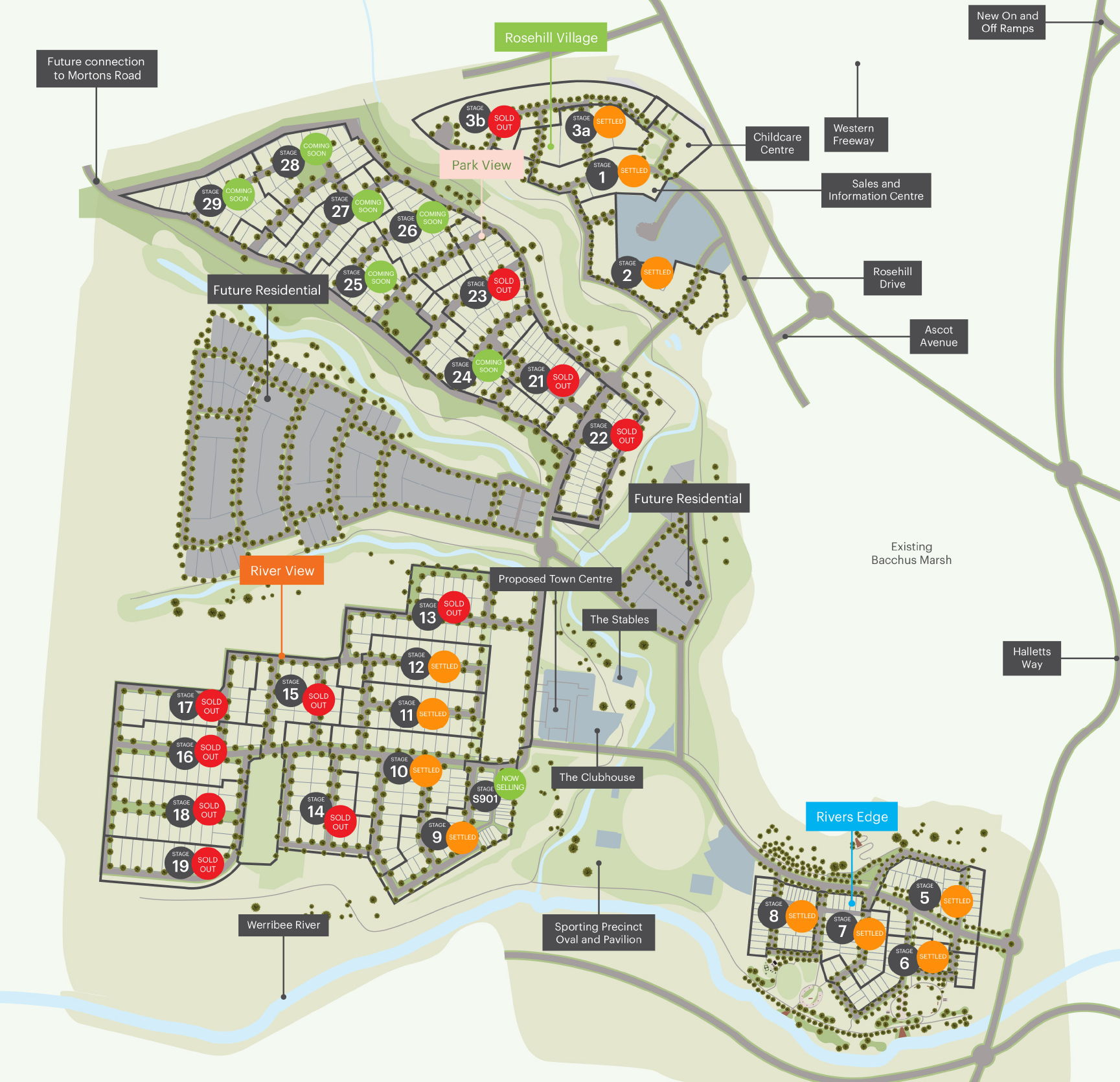 Proposed Childcare Centre
A proposed childcare centre to benefit local residents and the wider community.
The Stables
The proposed transformation of the former Underbank stables into public spaces which could be used for markets, festivals and more.
The Town Centre
A new town centre has been proposed along with cafés and retail spaces.
The Clubhouse
Residents will have exclusive access to a proposed recreational facility, complete with a pool, gym, tennis court and more.
Sporting Precinct, Oval and Pavilion
Residents will be able to enjoy casual games on tennis courts, netball courts and more. Along with a new community oval for cricket matches and football games.
A beautiful landscape reimagined
With tree-lined streets, extensive pathways, reinvigorated waterways and its own town centre, Underbank will be both a natural extension of Bacchus Marsh and a community in its own right.
Public spaces and amenity have been created to enrich the health and wellbeing of everyone who will live here. Several pocket parks and waterside reserves will be dotted throughout Underbank and will include amenities such as playgrounds, fitness stations, picnic shelters, barbecue facilities and a basketball key. Larger parks and public spaces also provide a place for people to come together, relax or engage in community events. The first park will be completed within Stage 1.
The Clubhouse
Tennis court, swimming pool, gymnasium.
Through an owners corporation, residents of Underbank will have exclusive access to a proposed Clubhouse, with features including tennis court, gymnasium, swimming pool and more.