Rivers Edge Release
Reimagining life by the river
On the banks of the beautiful Werribee River sits the most exclusive release of land in the historic Underbank Stud Farm.
Nestled between the water and the escarpment, Rivers Edge is the only land at Underbank this close to the river. While the township of Bacchus Marsh is just moments away, with all its modern amenities and easy access to the Western Freeway and train line.
A short, level walk to Underbank's proposed town centre, this exclusive release will be generously landscaped, with green spaces, paved walking and cycle paths, nature trails, new outdoor exercise equipment and playgrounds.
Werribee River Reserve & Parklands at Rivers Edge
As part of the new larger Underbank community, Rivers Edge will take advantage of over 50 hectares of parks, landscaped creek corridors and open space — truly a breath of fresh air.
Rivers Edge residents will have access to the tranquil Werribee River Reserve and associated parklands, where extensive planting schemes are already underway. In their design, playgrounds, picnic areas, seating, paths and shelters will reflect Underbank's equine history. The reserve will connect to the Werribee River shared pathway, leading to the fabulous Korkupperimul Creek corridor, which will include seating areas, fitness equipment and a nature trail.
The river is a great place for kids to explore nature and understand its complex ecosystems. Using the extensive riverside pathways you'll enjoy bike riding, running and exercising; or why not take your favourite book, perch on one of the river decks and while away the hours beneath the gumtrees. With these local parks and viewing decks, you'll be able enjoy the beauty of Underbank, and gather by the rivers edge with family and friends.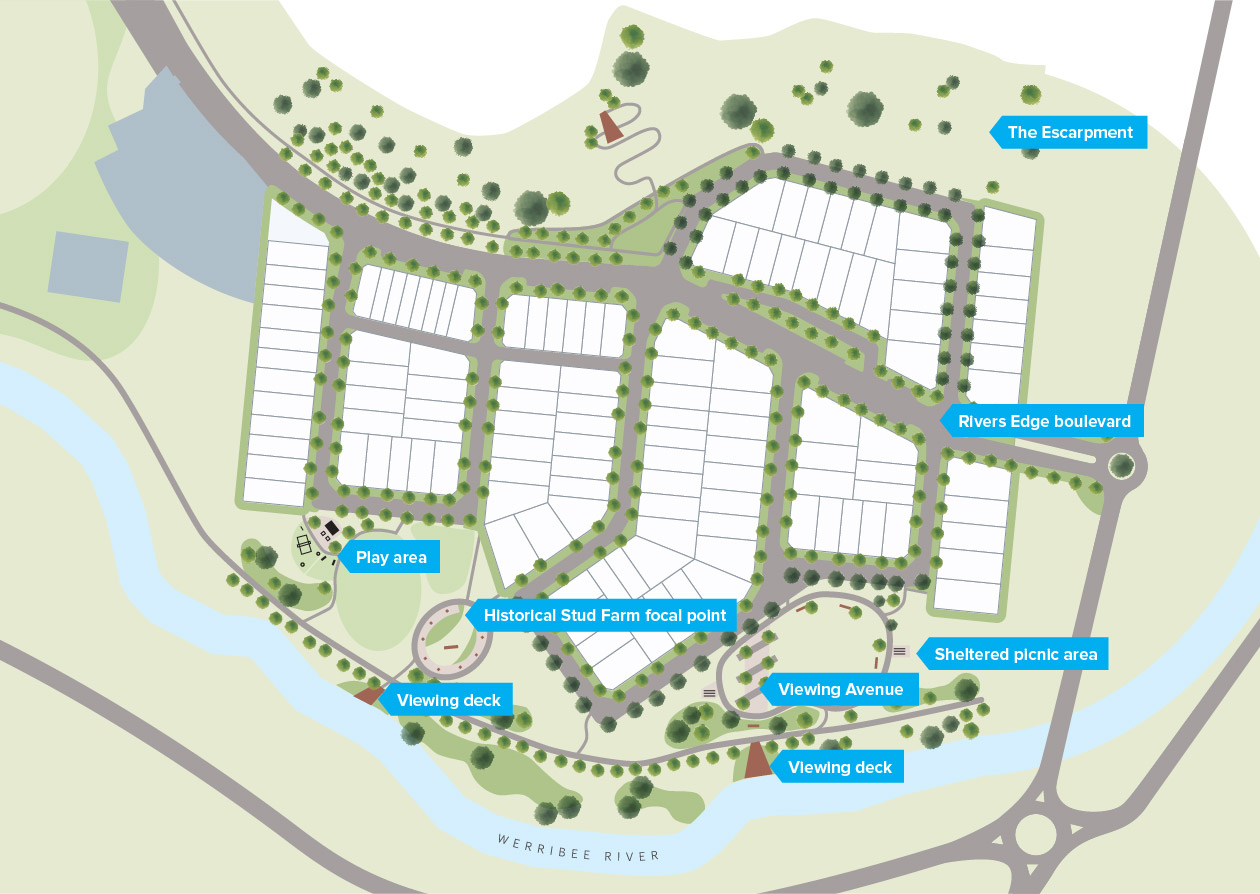 New first home owners grant
Enjoy the benefits of the government's $20,000 first home owner's grant.
When you choose Rivers Edge at Underbank, you'll also get complimentary access to contemporary home designs. They're cost-effective, environmentally responsible and make the most of Underbank's magical vistas. Tailored by our architects to the unique landscape and site conditions, these designs totally reimagine modern, flexible living.
Rivers Edge - A natural advantage
As well as lush scenery to enjoy, Rivers Edge offers an array of outdoor activities, all in a beautiful natural setting, moments from your new home.